Welcome to PreK On My Way!
This new comprehensive program, available in English and Spanish, invites every child to take the first steps on their learning adventure through songs, games, and books.
Easy to implement

Flexible curriculum

High-quality and culturally-diverse literature

Powerful partnerships
A Developmentally Appropriate Model for Learning
Children develop fundamental math, literacy, and language skills through literature and activities that explore various content areas:
Science

Social

Studies

Technology

Fine Arts

Physical Development
Meet Our Mascots
A Flexible Curriculum
Through eight monthly themes, children investigate a diverse range of topics across all learning domains.
Week 4
Week 3
Week 2
Week 1
Staying Connected with
Digital Resources
A wealth of resources for teachers, students, and families are accessible anytime, anywhere.
Customize lessons with the Teacher Hub.

Connect with families through the Family Exchange.

Excite students with award-winning songs and eReaders.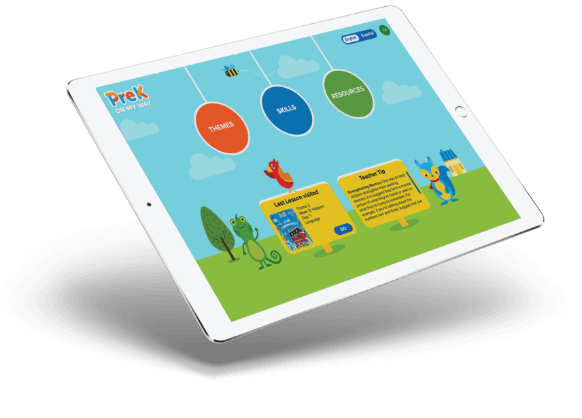 Powerful Partnerships

Scholastic has partnered with the Yale Child Study Center to give educators the research-based instructional support to meet the mental, physical, emotional, and academic needs of their students. Together we believe in the power of story to transform children's futures.
Learn More
In partnership with the Children's Learning Institute at the University of Texas Health Science Center at Houston, Scholastic has built upon the Developing Talkers model to ensure that every child has the skills and vocabulary needed for confidence and success.
Learn More
Family Engagement
Through the online Family Exchange and other resources, educators can help families extend their children's learning with:
At-home play
Writing prompts
Award-winning songs
Exciting and diverse ebooks
Learn More