About the Author
Don Vu, Ed.D., has been an elementary school teacher and principal for 24 years.

Don and his former school staff chartered a literacy campaign in 2013 to foster the love of reading in all students. In 2017, he received the Celebrate Literacy Award from the California Reading Association (CRA) for his outstanding leadership in literacy. In 2018, his school was one of five schools nationally to receive the Exemplary Reading Program Award from the International Literacy Association (ILA). In 2020, the school received the California Distinguished School Award for its work in closing the opportunity gap for all kids.

Don understands the challenges children face when learning a new language and culture, having fled Vietnam with his family in 1975. He also knows that reading can be transformative and life-changing. Don continues to spread the message that literacy can change the world through his work with state and national literacy organizations as well as his writing in publications such as Edutopia and Scholastic. He currently serves on the national advisory boards of Scholastic Book Fairs and the Library of Congress Literacy Awards Program. His new book, Life, Literacy, and the Pursuit of Happiness, is a call to action for all educators who want to build a school culture of literacy to empower all students as they pursue their American Dream.

Follow him on Twitter at @drdonvu for updates or go to www.drdonvu.com for contact information and more.
Expert Idea
Creating Video Book Trailers to Build Background Knowledge
While real-life experiences build background knowledge, so do virtual experiences, such as video. When we started doing book trailers at my school, we wanted to address a need of many of our underserved students—including our immigrant and refugee students. Those students, we found, typically didn't have enough background knowledge to comprehend what they were reading and to make connections across subject matters. Providing students with relevant facts and details related to subjects you're teaching them improves their comprehension and learning. As such, in our book trailers, we include facts and details so that students are not only excited to read a particular book, but also have a chance to build their background knowledge.
So, for example, when we did a book trailer for The Lorax by Dr. Seuss, we included some information about conservationism, conservationist John Muir, and Yosemite National Park. When we did one on Charlotte's Web, we included some information about farm animals and state fairs. Using video to promote a book allows you to not only give a book talk to a large audience, but also build students' background knowledge. We found it an excellent way to begin literate conversations with students.
Teach It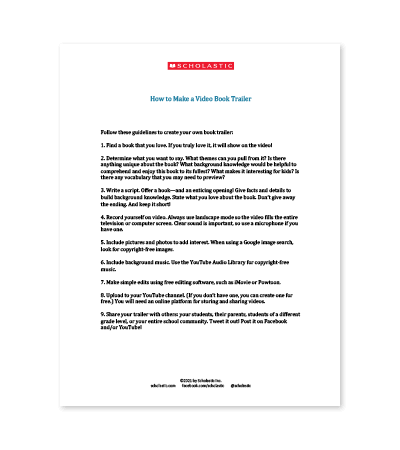 Download step-by-step directions on creating a video book trailer
Download
Watch and Learn
For samples of Video Book Trailers, click Watch
Learn More
Read a Sample Chapter
Please enjoy Chapter One of Life, Literacy, and the Pursuit of Happiness.
Order the Book
Click here to order Life, Literacy, and the Pursuit of Happiness: Supporting Our Immigrant and Refugee Children Through the Power of Reading.